Enchanted Gardens: Pollinator-Friendly Plant Nursery in Whitstable, Kent
Welcome to our new, organic nursery passionate about environmental protection and bio-diversity. We are a small operation specializing entirely in bee, butterfly, moth and bat-friendly plants and habitats - and are one of a very few horticultural companies of this kind.
As of March 2019 we are members of the national...
Bumblebee Conservation Trust
Butterfly Conservation Charity
RHS Royal Horticultural Society
Bat Conservation Trust
RSPB Royal Society for the Protection of Birds
Donna - Director & owner of Enchanted Gardens
...which all have at their heart a unique charitable vision to help restore neglected natural environments and create new vibrant areas for wildlife.
Award winning Kent garden designer Donna Richardson is right on the button with her grassroots activist work. From Sir David Attenborough, to BBC Springwatch's Chris Packham, to Gardener's World and all the famous and celebrated flower shows in the country - everyone is talking about the importance of saving the bees and the butterflies. Donna was one of the first to recognise this unfortunate trend of losing our insect population years ago, when she set out to develop Enchanted Gardens - a dedicated organic nursery, which sells mostly rare and unusual plants, which were, and broadly are still not grown and are not available in the UK. All of her flowers are selected for their huge amount of pollen and nectar, which sadly, within the industry have been forgotten in favour of profit and fashion.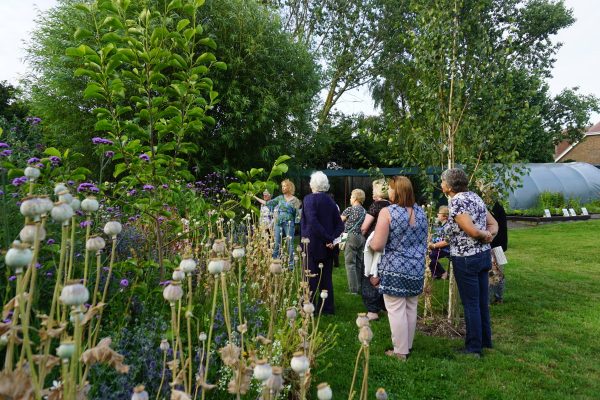 ______________
Donna teaches from her home in Seasalter, near Whitstable in Kent and offers various short courses in pollinator-friendly gardening.
Since introducing Enchanted Gardens to the public in 2019, Donna has entertained groups from the RSPB, Mother's Union, the WI (National Federation of Women's Institutes) and various other societies. She is attached to the Kent Wildlife Trust and has won a Silver Gilt and a special Nature's Champion award in 2019 from the Wild About Gardens scheme for her efforts.
She usually sells her plants at the Kent Garden Show in Detling every year, which is judged by a Chelsea & Hampton Court Flower Show judge, who awarded her various Gold, Silver Gilt and Platinum awards since 2014. She was booked to be at the Kent County Show on 10th-12th July 2020, but unfortunately this has been canceled due to the corona virus outbreak.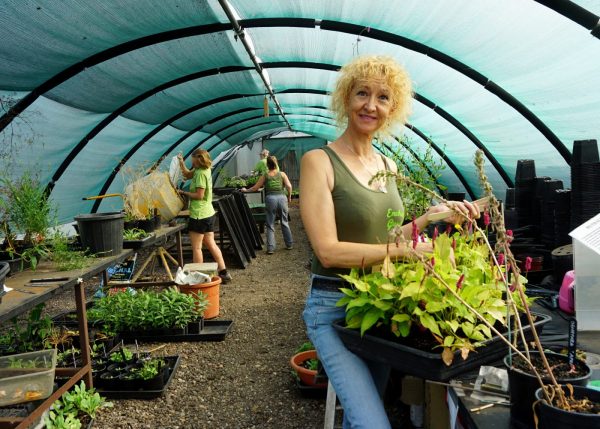 She says: "One of the biggest problems for pollinators is the loss of habitat, due to agricultural practices, urbanization and deforestation. Second is the increasing use of fertilizers and pesticides worldwide and contamination with chemical pollutants of all kinds. So, I'd like to encourage all gardeners to grow more flowering plants, especially those packed full with pollen and nectar. Remember, your garden is a mini nature-reserve and if enough individuals set up a small wildlife sanctuary in their gardens - it will make a huge difference for our declining insect population. There is a need and an interest for conservation issues in the Zeitgeist. So it's time to get involved and give nature a helping hand."
Donna uses only bio-degradable carrier bags to give to her customers and is the process of phasing out plastic labels, changing them into wooden ones. She also uses only organic, peat-free compost and invites landscape gardeners to use her plants for their own wildlife-friendly design projects.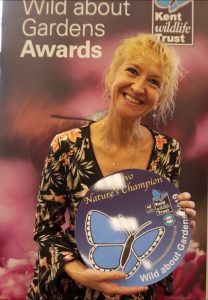 She offers Gift Vouchers for plants and one-to-one experiences, as well as a fabulous range of gorgeous flower seeds, which you can order at the link: Enchanted Seeds.
Start a garden, however small

Fill this area with the best possible plants that pollinators love!

Build a pond, or provide water for insects

Let parts of your garden grow wild. Introduce wildflowers!

Avoid using pesticides wherever possible

Provide nest sites (bug hotels) and don't disturb them!

________________________________

Enchanted Gardens is part of the NGS, the National Open Garden Scheme, which is collecting money for various caring charities nationwide. Last year's open weekends turned out extremely well. This year's events are scheduled for the 12th/13th, as well as 26th/27th September 2020.
In spring 2020 we've started to grow vegetables, as well as our famous perennials and Purple Pollinator Packs!  

 
We've got over 25 different young Vegetable Plants in stock - many of them are now only £ 1 as it is already May! Compost bags available too! 75 Litres: £ 7.50 Please check our facebook page: www.facebook.com/EnchantedGardensKent for updates.
My Head Gardener Helen showing you how to pot on seedlings

Helen has been working for me as my personal gardener for the past 5 years and I value her talent, expertise and advise enormously. So, for the purpose of giving someone else the stage (for a change), I gladly step aside and let her do the talking. 😉 This is a lovely warm introduction to 'life in the tunnel' and how we grow our pollinator-friendly plants here at Enchanted Gardens. Not only do they get the personal attention they need to develop into strong, healthy plants, they also get all the TLC and love they need to grow into the beautiful and happy flowers that will eventually end up in your garden.

Posted by Enchanted Gardens Kent on Saturday, 23 May 2020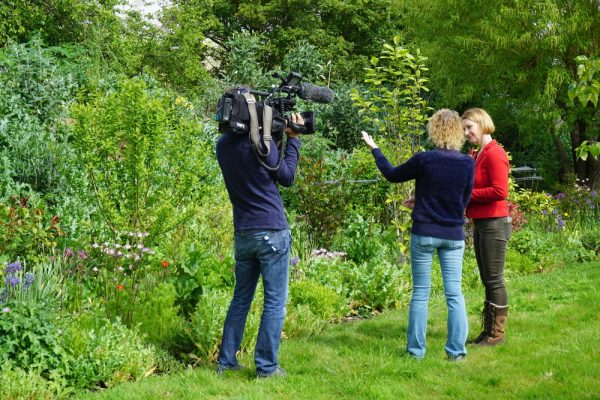 BBC South Today and Radio Kent have both interviewed Donna in 2019 and broadcasted a news item about it. 
 www.enchantedgardenskent.co.uk/2019/05/02/rarest-bee-in-britain-found-at-enchanted-gardens

.
.
.
.
.
 Donna is available for Talks, but also for Garden Makeovers. She is currently collaborating with various charities like Mencap in Margate, Demelza, as well as Carers Cancer Support in Whitstable.
BELOW ARE ALL OUR EVENTS, COURSES & TALKS WE HAD PLANNED FOR 2020 - BUT THEY HAVE NOW BEEN CANCELED UNTIL FURTHER NOTICE

___________________________________
MARCH
• Green Living Market, Whitstable Umbrella Centre (9-4pm) - Sun, 1st
• Wildlife Gardening Course at Enchanted Gardens – Wednesday, 18th
APRIL
• Spring Bulb Festival as part of NGS Scheme – Sat/Sun 4th and 5th
• Donna lecturing Windmill Community Gardens - 1pm - Monday 6th
• Wildlife Gardening Course at Enchanted Gardens 10-1.30 – Wednesday, 15th
• Simon Pollard talk & walk in the woods (1.30-5pm) - Saturday, 18th
MAY
• Godinton Plant Fair - Sunday 3rd
• Belmont Plant Fair - Sunday 3rd
• May Day at Whitstable Castle – Monday 4th
• Visit from Cross Pollination Project Tunbridge Wells - Friday, 15th May
• Kent Garden Show Detling – Fri-Sun 23rd-25th
• Altogether Extraordinary Neurodiverse session for National Children's Gardening week at EG - Friday 29th (tbc)
• Simon Pollard Presentation; the Four Keys, Sunday 31st @ 3pm.
JUNE
• Dunkirk Parish Meeting 'Therapeutic benefits of Gardening with Nature' - Monday 1st (tbc)
• Fiona March Selling Gardeners 7.15pm - Tuesday 2nd
• NGS National Open Garden Scheme – Sat/Sun 6th and 7th
• University of Third Age lecture at EG (11.30-2.30) – Tuesday 16th
• Short Talk at St Dunstan's Eco Church - Saturday, 20th (tbc)
• Wildlife Gardening Course at Enchanted Gardens 10-1.30 – Wednesday, 24th
• Demelza Open Garden Fundraising Event – Sunday, 21st
• Faversham Open Gardens Plant Fair – Sunday 28th
JULY
• Kent County Show Detling - Fri-Sun 10th, 11th and 12th
• Wildlife Gardening Course at Enchanted Gardens – Wednesday, 15th
AUGUST
.
• Simon Pollard Presentation, The Five Senses, Sunday 2nd, 10am-1pm
• Wildlife Gardening Course at Enchanted Gardens 10-1.30– Wednesday, 12th
• Nature Creative Weekend (Outdoor Art Exhibition) 10-5 - Sat/Sun 15th & 16th
• Donna lecturing for Altogether Extraordinary at Windmill Garden Whitstable - Monday 17th
SEPTEMBER
• NGS National Open Garden Scheme by Appointment - Sat/Sun 12th and 13th
• Wildlife Gardening Course at Enchanted Gardens – Wednesday, 16th
• NGS National Open Garden Scheme - Sat/Sun 26th and 27th
OCTOBER
• Wildlife Gardening Course at Enchanted Gardens 10-1.30 – Wednesday, 14th

We normally sell our plants directly from the nursery, or through local flower shows, but you can now also order them online!