Enchanted Gardens: Pollinator-Friendly Plant Nursery in Whitstable, Kent
Welcome to our new, organic nursery passionate about environmental conservation and bio-diversity. We are a small operation specializing entirely in bee, butterfly, moth and bat-friendly plants, flowers and habitats - and are possibly the only horticultural company of this kind in the UK!
As of March 2019 we are members of the national...
Bumblebee Conservation Trust
Butterfly Conservation Organisation
RHS Royal Horticultural Society
Bat Conservation Trust
RSPB Royal Society for the Protection of Birds
Donna - Director & owner of Enchanted Gardens
...which all have at their heart a unique charitable vision to help restore neglected natural environments and create new vibrant areas for wildlife.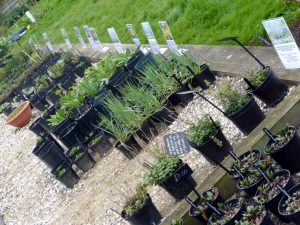 Donna developed Enchanted Gardens around 15 years ago to express herself by growing plants which were (and broadly still) not grown and not available in the UK. It's her lifelong obsession and by using her love and immense knowledge of nature, she is drawn to slight evolutionary differences between original species, because she saw the value to pollinating insects within the design of the flower and the presence of pollen and nectar. Sadly, within the industry these two vital ingredients
for life on our planet have been forgotten in favour of profit and fashion.
Donna now teaches and lectures from her home. She is attached to the Kent Wildlife Trust, who runs the Wraik Hill Nature Reserve opposite her and also has interactions with the Kent Field Club - the natural history society of Kent - and The Wildwood ConservationTrust in Canterbury, where she will hold lectures on the subject of conservation throughout the year. Furthermore, there are planned collaborations with The National Pollinator Strategy (NPS) which is a cooperation between Government and other organisations to protect the future of pollinators, as well as potentially getting enlisted in the Royal Horticulture Society's (RHS) Plants for Pollinators scheme as one of their organic nurseries.
One of the biggest problems for pollinators is a lack of flowering plants, especially those packed with pollen and nectar, so we like to encourage gardeners to grow more of them. At Enchanted Gardens we grow and sell about 140 different varieties that provide you with just that. They are mostly perennials and are produced directly from seed. We realize that there is a need and a strong interest for conservation issues in the Zeitgeist and the public seems keen to get involved.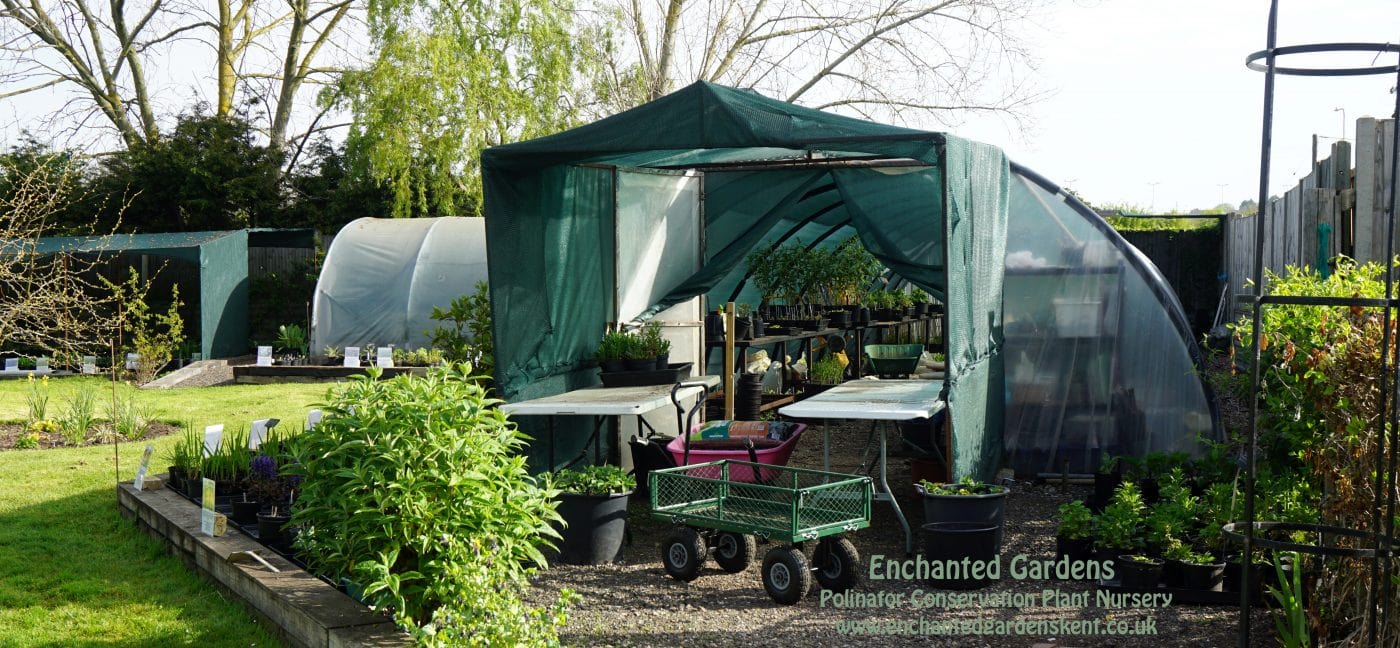 Remember, your garden is a mini nature-reserve! We have therefore decided to create a unique 'Environmental Health Care Pack' for people locking to offset their carbon footprint and wanting to assist nature. We strongly believe that if enough individuals implement these approaches and set up a small wildlife sanctuary in their plots, this will make a huge difference for our declining insect population. So get creative and give the bees, moths, bats & butterflies a home!
Start a garden, however small

Fill this area with the best possible plants that pollinators love!

Build a pond, or provide water for insects

Let parts of your garden grow wild. Introduce wildflowers!

Avoid using pesticides wherever possible

Provide nest sites (bug hotels) and don't disturb them!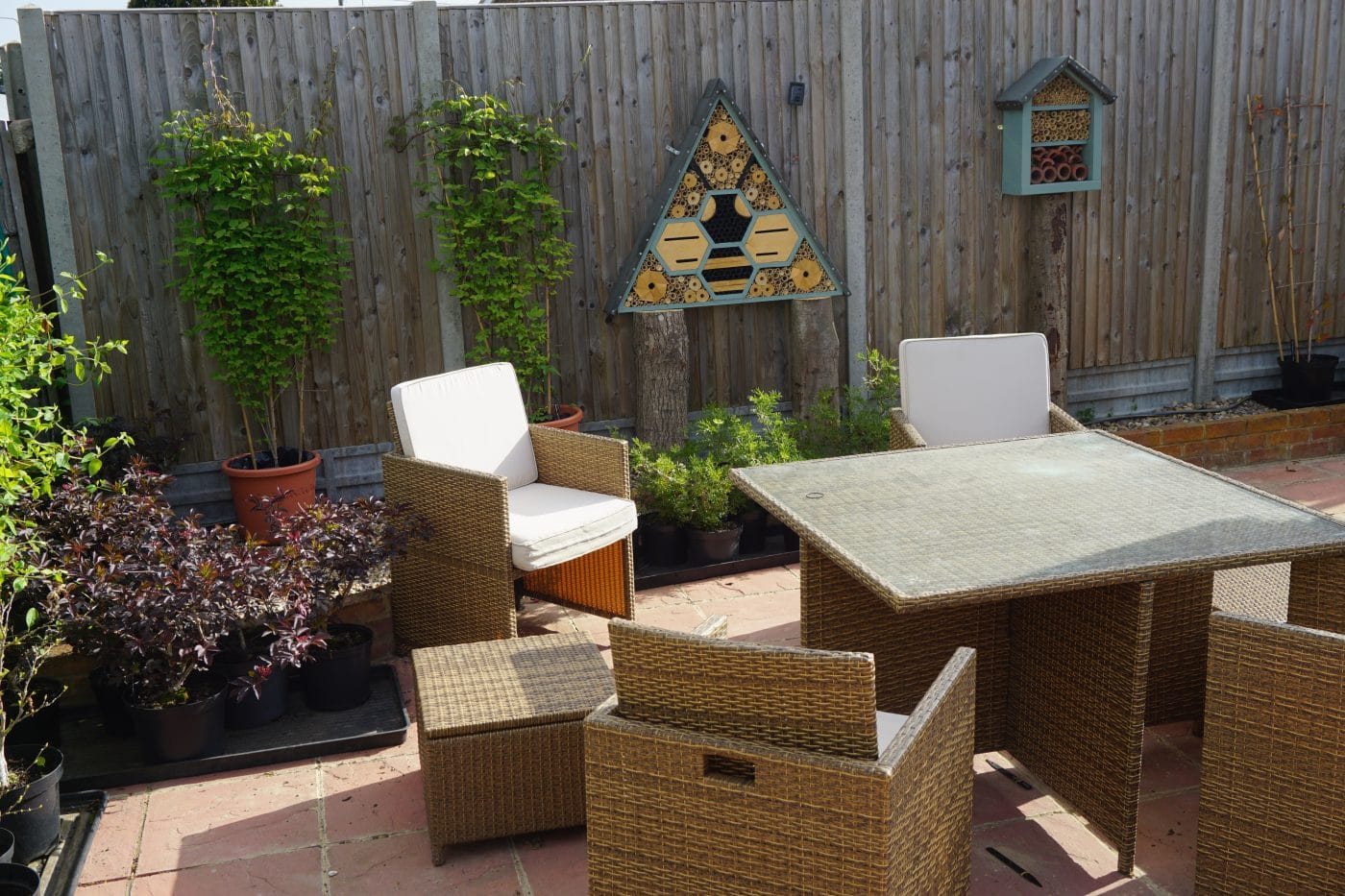 Once our Pollinator Packs are finalized, they will come as irresistible combinations of the best-loved, most popular plants favoured by bats, bees, butterflies and moths. We will update you as soon as possible about these options, but the outcome is likely to offer an easy, all-inclusive 'Mix & Match' option for people where they can choose 10 of our 3 litre pot plants from our website + bug 1 hand made bug hotel and postage...all for the very reasonable price of £ 100. Normally most of our plants are £ 7.50, so this would bee a wonderful opportunity for many to help mother nature and do their bit for the environment...but we will let you know as soon as we know for sure.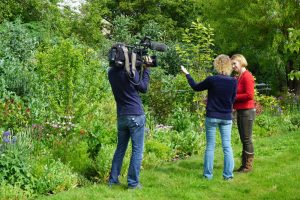 The BBC will be at Enchanted Gardens from time to time to film, as we have the rarest bee in Britain here! News about this has already reached the BBC Radio Kent and the BBC South Today, who both interviewed Donna and conclusively podcasted a news item on the discovery of the rare Shrill Carder Bee in May 2019. www.enchantedgardenskent.co.uk/2019/05/02/rarest-bee-in-britain-found-at-enchanted-gardens.  This particular bee is on the endangered list and for it to be in our garden, and not open countryside, is almost impossible - which is why such a fuss has been made about it. And because our garden is so special, we are given two whole weekends in aid of the National Open Garden Scheme (NGS) - one weekend on 8th and 9th June and another one on 28th and 29th September. So come and visit us then. We look forward meeting you!
We sell our individual plants directly from the nursery, or through countywide shows, but you can now also purchase them via our new online shop.