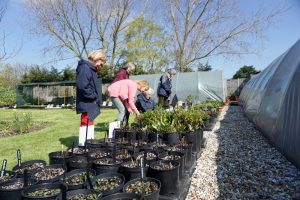 It has taken me 25 years to create this small independent nursery from open farmland to the traditional cottage style gardens it is today. I've always been a 'naturally gifted' gardener and intuitively know what plants are and what they require. I genuinely struggle to accept the loss of hardy specimen and deeply regret that small independent nurseries - often family run - have declined very dramatically in the last 10 years, due to the pressures of business from large chains and groups. I believe far too many garden plants and shrubs are imported from the continent, which causes horticulture to thrive in other economies, but is at a very low ebb here in the UK. In fact, I think we have pretty much destroyed our own horticultural industry and it is for that reason, that we as "small-niche-growers", along with all other gardeners in the country, can change this situation around by focusing again on native species and localised growing practices, as well as biodiversity.
As you might have realized, I am absolutely passionate about pollinating insects and the loss of bees worldwide. This concern drives my growing specifically for their benefit. My approach is entirely organic and I mostly concentrate on native British perennials, since there are so few. I believe many of them have been dismissed, or are neglected as too old fashioned/ out of date/ have erratic germination/ are not easily kept in a pot and therefore cannot be produced quickly and cheaply in the vast quantities as they do on the continent. I always grow from seed and from the past; thus avoiding weak plants which often prove to be annual and not fully hardy. I also often "trial" new perennials and shrubs for up to 2 seasons before passing them on with an honest opinion of their worth.
A lot of my time is normally taken up with the 'Ladybirds', my successful female only Whitstable & Kent based gardening company that I set up about 20 years ago. But this year (2019) I have reached a level of professional capacity that allows me to introduce my so far secret pollinator conservation nursery to the public. Now I can give quality time to people interested in the subject and personally show them around, highlighting to them the importance of bee and butterfly-friendly planting. During your visit I will  help you with questions about where to plant and how to look after the plants you buy.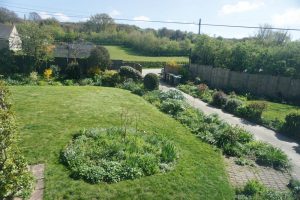 We would certainly like to encourage you to lay out a delicious banquet for our friends the bees and butterflies, and create your own must-have 'pollinator restaurant' in your garden. But it doesn't matter if you don't have a garden. Small plants in containers, i.e. window boxes, patios, pots, or planters will also make an excellent choice for those of us who live in rented accommodation in towns and large cities. Containers of pocket-size pollinator-magnets will brighten your doorsteps and concrete plots, and offer tenants the chance to experience that sense of wellbeing and joy generally associated with gardening. Please try it and remember that your garden is a mini nature reserve that can help to create a healthy ecosystem, but avoid double flowers with little or no pollen, or no nectar.
And finally, it is with great pleasure that I can announce that we now use only bio-degradable carrier bags to give to our customers, as well as wooden labels, rather than plastic ones! We have also just received our first samples of bio-degradable planting pots! ~ Donna ~