We have been approached by East Kent Mencap (@eastkentmencap) in June 2019, who have asked us to help them with their garden. This particular home – a supported living residence in Margate – has a conservatory that leads on to a large, but rather neglected open space with a summer house. Funding has been secured to have a complete garden makeover and the organisers were very excited to hear our ideas for making it a really special place for the tenants and visitors. The managers particularly like the fact that here at Enchanted Gardens, we are so eco-friendly and keen on wild parts, which will add to the low maintenance aspect, that they are interested in. The tenants enjoy the outside space, but sadly are not gardeners, nor are the staff and so the garden is looking rather uninspiring. This is about to change. 
Samples of Donna's past projects: I have designed and planted my first sensory Garden for Blind Children in 2007. This was an amazing opportunity to understand the human senses in relation to plants and everything that needs to be attached; Sound, Smell and Tactile composition. I learnt so much from staff and volunteers about this. In 2008 I designed and planted the Sensory Garden at Farming World for children with special needs for educational purposes, and this was highly successful for children and adults alike. This was my second project to work with children. In 2009, I worked with the Environmental Agency, again producing an educational Garden Landscape for children with a wide variety of abilities, this garden was very well received and I learnt so much more.
My initial thoughts for this particular garden are the residents and what they would benefit from regarding a sensory perspective for the outside space. I feel that the current crazy paving is both un-even and old. With the resident's mobility at the forefront of my concerns, this will need to be addressed. The garden itself is so lovely, with several mature trees and so a simple design and keeping all of the plants is the best way forward.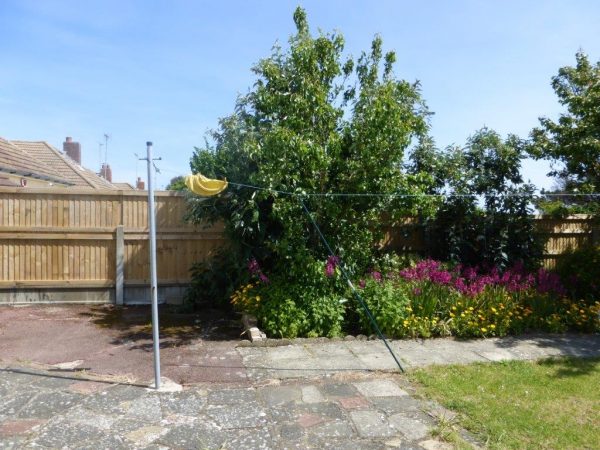 The left hand side is a well planted border of shrubs and perennial flowers, but this whole side needs to be very thoroughly weeded.
Every tree in this zone requires pruning and re-shaping for the benefit of future growth. Unfortunately, this must be carried out in a timely manner and there are some tasks like Apple Tree pruning which can only be completed in the winter time.
The Kentish Cobnut cannot realistically take too much stress as we approach summer, and so this again will need to be carried out later in the year.
.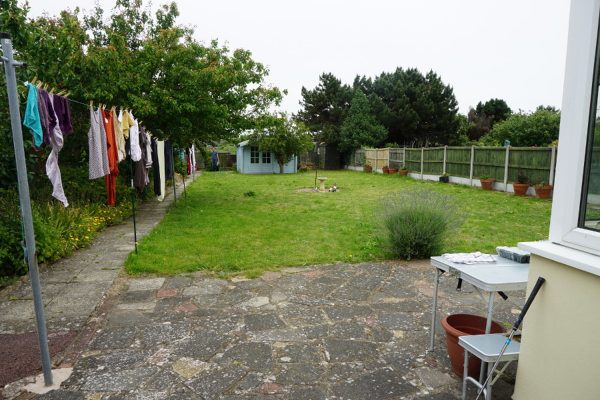 I would assess that the level of root removal will not be possible to be done until the autumn. However, some of the pruning and a level of control can be taken in the coming months. I am particularly interested in the mature Peach Tree, which I feel is a very old variety. I plan to invite a colleague from Brogdale Faversham along to identify its significance.
The central bird feeding station needs to be moved to keep the lawn clear for access and also the birds would be more confident feeding in a less exposed area of the garden.
.
"I note that the right hand side of the garden has unfortunately a concrete slab laid the whole length of the garden…."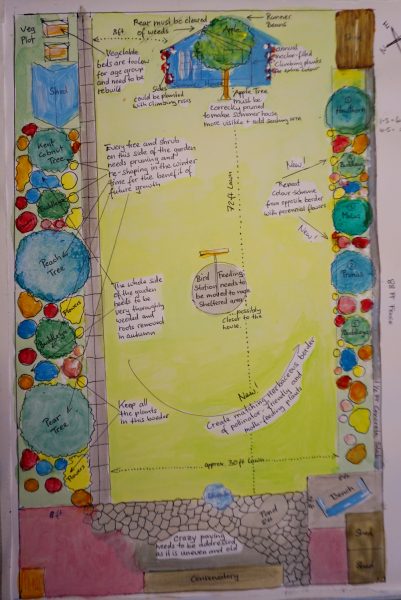 and large pots have been placed intermittently. This is both unhelpful and very high maintenance. In order to save costs removing this line of concrete (although ideally if funds could be found it would be great to completely remove) In the meantime, I would suggest that a border is cut in front of it- perhaps providing rear access to this matching shrub and Herbaceous border, which can be filled with Hawthorne Pauls Scarlet (pollinator friendly, moth feeding) and several Buddleja, Malus and prunus.
~
The summerhouse is very pretty and if the Apple tree was correctly pruned in the winter time would be more visible and make a great seating area with shade. The sides of this pretty building could be planted with climbing roses, inter-planted with annual nectar filled climbing plants for extra colour. The rear of this building is to be cleared of weeds and Runner Beans would do very well growing here for the resident to have access to.
The small low raised wooden vegetable beds are far too low for the age group and capabilities of the residents and need to be re-built utilising the whole space.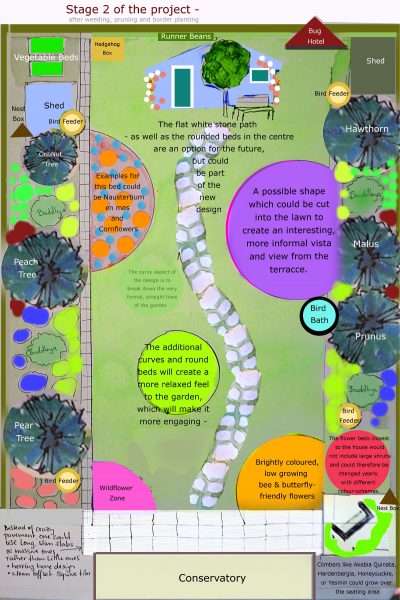 I would like to keep this relatively simple so that favourite crops are grown to encourage residents to help themselves and harvest independently; perpetual salad leaves in the summer, carrots, tomatoes and strawberries. Heritage varieties are often the tastiest and the taste will not be forgotten, this could be enjoyed by staff members as well. I would like to keep this relatively simple so that favourite crops are grown to encourage residents to help themselves and harvest independently; perpetual salad leaves in the summer, carrots, tomatoes and strawberries.
~
The project has now officially started (Sept 2019) and will probably be complete by the end of 2020, possibly later. The final job for this garden this year is to remove 5ins of top soil. The volunteers might be back at the end of October and once the bed is prepared, Donna will take charge of the planting. In the meantime 30 x 50 L bags of organic mulch to dress the bed with after planting have been ordered.  Donna will speak to her supplier Palmstead to agree prices for the autumn planting, which are:  
 1 Malus John Downey;  1 Flowering Cherry;  3 Buddliea – Black Knight, Daviddi, Royal Red;  3 Carioperitis Grande Blue;  12 Asters – Monchl;  12 Hellenium Rubinzweg;  12 Anenome Honorine Jobert
~
Day 1: The friendly chaps from Network Rail came down to help dig out the right hand side of the garden for us on 11th September 2019