Wildlife Gardening Course for Beginners 2019 (Lecture & Guided Tour)
How can we ensure the survival of bees & butterflies? Bee numbers are falling and other pollinators are also in decline. If action is not taken, a drop-off in population numbers will have serious implications for food production and gardens – as many plants rely on bees and other insects to transfer pollen from one flower to another in order to set fruits and seeds. But what exactly is a Pollinator Garden? A pollinator garden is a garden that is planted predominately with flowers that provide nectar or pollen for a wide range of pollinating insects.
In our half-day courses you will learn about the relationship between bees and flowers – biodiversity, environmental protection and all aspects of pollinator conservation work and receive a highly informative and engaging lecture, before setting off into the garden for an inspirational tour and various hands-son demonstrations by our nursery staff .
We have finalized our dates and are very pleased to offer you a total of seven hands-on Wildlife Gardening Courses this year – 2020!
• Wednesday, 18th March
• Wednesday, 15th April
• Wednesday, 24th June
• Wednesday, 15th July
• Wednesday, 12th August
• Wednesday, 16th September
• Wednesday, 14th October
During these 3.5 hour events you will meet Enchanted Gardens nursery owner Donna and her head gardener Helen, who will introduce you to the many aspects of wildlife-friendly gardening, such as how to plant flowers for bees and pollinators, grow a wild patch to attract butterflies and moths, as well as other important aspects such as log shelters, ponds, nesting habitats and bug hotels.
Courses will run for max 20 people at a time on a Wednesday. You will be greeted at 10am at the gate. The course starts at 10:15am with a 1 hour lecture by Donna in the conservatory. Then a short comfort break, before she takes you on a tour around the gardens until 12. At midday, we'll serve you tea/ coffee and delicious homemade cake. From 12:30 – 1:30 you will practice your newly found skills in the garden with our head gardener Helen, who will show many tips to improve your own gardening skills. And of course, there will be an opportunity to pick up any of our specialized, pollinator-friendly plants and #PurplePollinatorPacks. Price for these day-courses are £ 20. To book you place see our facebook page: www.facebook.com/EnchantedGardensKent, or contact: donna@enchantedgardenskent.co.uk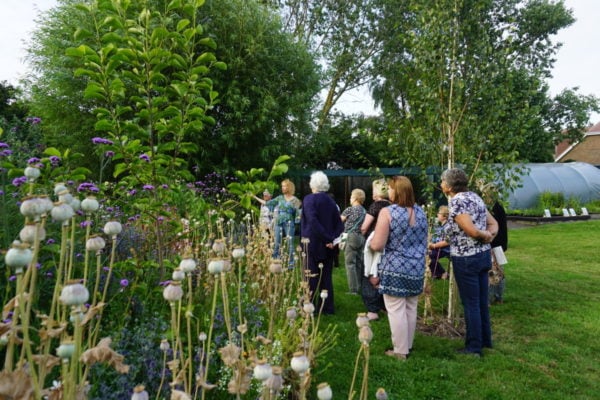 The following information will help you make your pollinator garden effective
A pollinator garden can be any size. You might only have a balcony or a small yard but you can still plant pollinator-friendly flowers there. You don't have to be exclusive about this planting policy – there may be other flowers that you like to grow in your garden for various reasons – but the majority of flowers in a pollinator garden should be specifically chosen because they support pollinators.
In other parts of the world birds are often pollinators, but in Europe pollination is done by insects (or in some cases the wind). So, include a range of flower types, shapes and sizes. Many pollinating insects can only exploit particular shapes or sizes of flowers. To support pollinator diversity you must cater for all shapes and sizes of insect mouthparts. Do this by planting a diversity of flower types.
Plan for a succession of flowers throughout the whole growing season. The climate of Britain and Ireland means that we have long growing seasons and some types of pollinating insects manage to breed two or more generations. But they need pollen or nectar from early spring until autumn in order to do this successfully.
Minimise or eliminate the use of pesticides. If insect pests such as aphids become a problem there are well-known organic methods to control them. In a nature-friendly garden such pests are rarely a problem anyway, as they tend to be controlled by birds and other natural predators.