Vinca Minor Purple or periwinkle or myrtle
Vinca is used a lot in landscaping but do not let this put you off. It's compact, ground covering, delicate little dark glossy green leaves and ours has wonderful small single purple flowers. It flowers late Autumn so great for extending the nectar window for the sleepy bees. We have it around all the edges of the pond, where it creeps happily along, dangling its feet in the edge periodically. Twice a year we gently trim it back with shears, easy low maintenance, good all year round plant. It does come in other colours, currently we only have the purple in stock.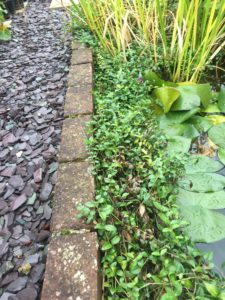 Please note: online orders need to be collected from our nursery in Whitstable. Please contact us if you would like a quote for delivery.